Easy Grow Greenhouse Kits


OUR BEST-SELLING ALUMINUM GREENHOUSE KITS!

These greenhouse kits feature rust free aluminum framing, with 4mm twinwall polycarbonate. The black models feature clear-as-glass single layer polycarbonate on the sides, with twinwall polycarbonate on the roof.

All models have built-in shelving on both sides. The 8' X 12' models come with 2 roof vents (1-manual, 1-automated) and sturdy hinged double polycarbonate doors, while the 6' x 8' models come with one manual roof vent and single door. Free shipping for these greenhouse kits within the Continental USA!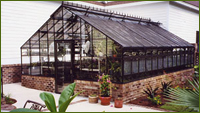 Copyright 2010: American Classic Greenhouses: Orchid Greenhouse: All Rights Reserved

(682) 224-2927   |   tom@americanclassicgreenhouses.com